CCAH has a LOT to be thankful for! This year, our family has grown as we've welcomed new employees and clients; intelligent, creative, collaborative individuals that make our work space better and brighter every day.
We are proud that CCAH has become a place that feels like home at all times of the year; raising money for places like children's hospitals who have many sick children during the holidays, researching cures for diabetes and cancer, helping to protect public lands and endangered animals, or to elect democratic women. A year full of progress towards our collective goal to make the world a better place fills our hearts with thanks and gratitude.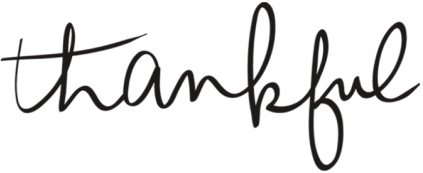 "I am thankful that I have the opportunity to work at a company that gives me room for professional development and the work-life balance I need to be there for my family." Darren Whetstone, Account Representative, Digital
"I'm thankful for my Dad! He's 94 and I'm so glad that I still get to see him and talk to him." – Jenny Allen, Principal & Senior Vice President
"I'm thankful for my good health, my family and friends, and that the Gamecocks' 2018 football season is almost over, so that my girlfriend won't have to ask me to stop yelling at the TV." – Adam DuBard, Account Representative, Direct Mail
"I am thankful to be able to work with kind and talented coworkers who don't mind when my dogs start barking on a Skype call." – Steven Yenzer, Copywriter
"I am thankful for all the support I received this year from my friends and family (this includes my CCAH family). All the great people that I have in my life help make me better in every way." – Suzan Sari, Data Specialist
"I'm thankful for having the will power to unleash the inner peace that creates a vision for my future." -Chastity Morris, Human Resources Coordinator
"I'm thankful for the small things in life – like the people who go out of their way to make my day just a little better. And I am thankful for the men and women serving around the world who won't get to be with their families over the holidays." – Sean Coogan, Production Manager
"I am thankful for my husband, Dan who is always supportive in all that I do. Thankful for my beautiful daughters, my son-in-law, my sister, all of my in-laws, nieces and nephews. Thankful for my best friend, Cassie, and her family. Ever since my parents died she has made sure we have been part of her family during each holiday. I am thankful that both of my daughters have many strong role models in their lives. Hillary Clinton was right – it does take a village, and I am so thankful for mine!" – Shannon Murphy, Principal & Senior Vice President of Production
From our CCAH family to yours, we hope you have a wonderful holiday season!