CCAH is thrilled to co-ho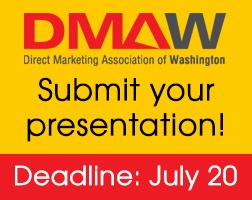 st the 3rd annual DMAW Digital Day Forum! This year's Forum will be held on Tuesday, October 18 at the District Architecture Center in Washington, DC.
The Digital Day Forum's Planning Committee is now accepting submissions for presentations and discussion facilitators. Is your organization successfully using digital marketing to reach and retain customers, donors, or members? We're seeking presentations that have strong case studies citing statistics that show an effective use of digital as a key component of a campaign. Topics of interest include: Social Media, Email, Cross Channel Marketing, Data Analytics, Digital Design, Mobile Strategy and beyond!
We're also seeking facilitators for round table discussions: if you are interested in facilitating engaging and thought-provoking discussions about digital strategy, be sure to enter a submission! (A nonprofit partner is not required).
Deadline for submissions is Wednesday, July 20, 2016. Submissions are currently being vetted by the 2016 DMAW Digital Day Forum Committee. Everyone who makes a submission will be notified of their status.