When I found out I'd be attending City of Hope's 40th Annual Bone Marrow Transplant (BMT) Reunion earlier this month, I wasn't sure what to expect. Having written about the event before, I knew what it entailed. But I had no idea how deeply it would affect me to be there in person. And I didn't anticipate that I'd be leaving a few of my cheek cells behind.
Let me back up.
Not long ago, bone marrow transplants were considered an experimental procedure for people with leukemia, lymphoma, and other life-threatening hematological diseases. But over time, the procedure has become more and more common. And City of Hope—one of our incredible clients—is one of the top transplant centers in the country.
With more than 13,000 transplants under their belt and an unparalleled survival rate, City of Hope is the only transplant center in the U.S. that has received the "over-performing" ranking for ten years in a row from The Center for International Blood and Marrow Transplant Research.
Each year, around this time, City of Hope proudly celebrates these successes with a BMT Reunion—a tradition that started off humbly four decades ago with just one patient, his family, and some doctors and nurses.
But now, thousands of people attend each year—including many BMT recipients and donors, each of whom wears a big button showing how long it has been since their transplant. I saw everything from 80 days all the way up to an incredible 36 years!
And every year at the BMT Reunion, two of these patients meet their donors for the very first time.
This year, with their families by their sides … and patients watching from their hospital rooms, hoping to be well enough to attend next year … Dominick and Steven first laid eyes on the strangers who saved their lives.
Dominick, who is just 15 years old, has been battling acute lymphoblastic leukemia since the age of 9. But now he is back to playing football and being a teenager because a young woman from Ontario, Canada named Vanessa was willing to go through a bone marrow donation for a complete stranger.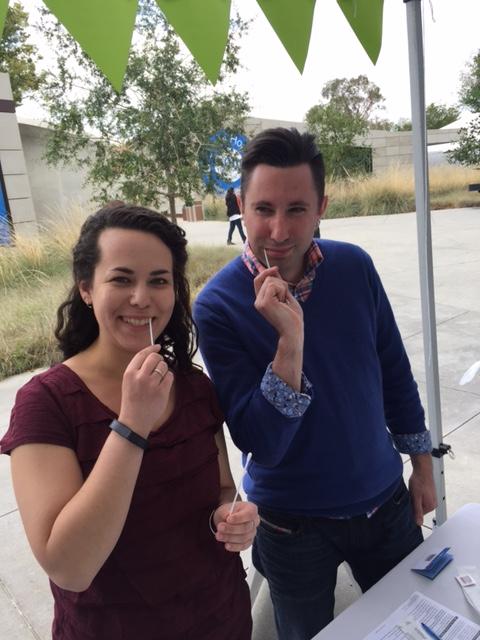 And Steven Bochco, an Emmy Award-winning TV producer suffering from a rare form of leukemia, now has more time with his family because a young man from San Francisco named Jon selflessly donated his stem cells.
Okay, yes, I'm a writer. But watching this ceremony left me with very few words. Few words—but a plan. I knew I had to join the Be The Match Registry.
In all of five minutes, I filled out some paperwork, swabbed the inside of my cheek with a Q-tip, and joined a network of nearly 27 million potential donors around the world. My awesome colleague B.J. McHugh was right behind me, swabbing his cheek as well.
There's a minimal chance we will be called upon to donate—but if the time comes, our impact will be anything but small.
Check out this inspiring video from last year's BMT Reunion and then sign up to Be The Match!