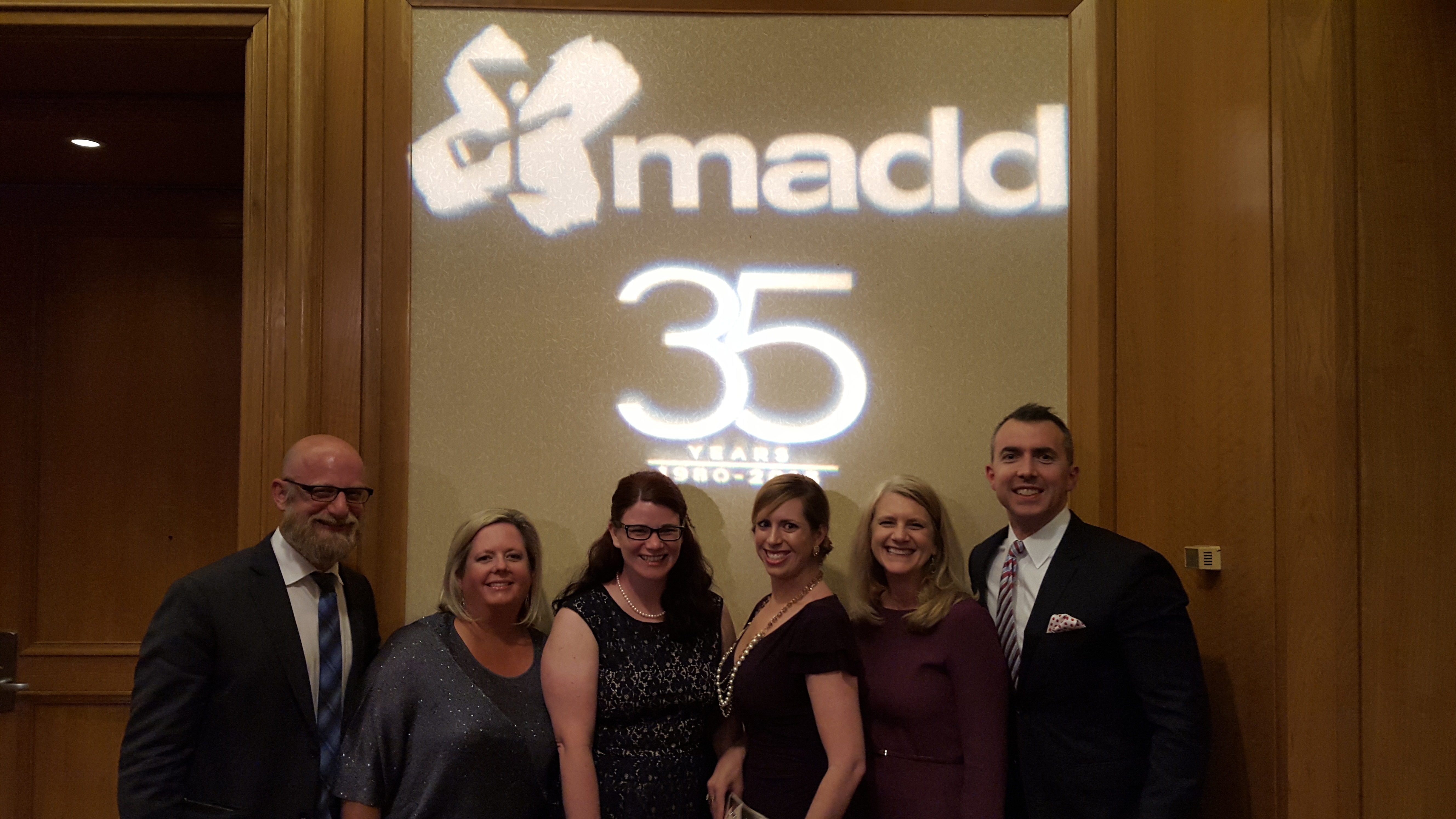 No More Victims. This compelling and meaningful new tagline for Mothers Against Drunk Driving (MADD) was the important drumbeat heard throughout their 2015 National Conference in Washington, DC on June 4-6. This 3-day conference, which also celebrated MADD's 35th Anniversary, is the largest gathering of supporters, staff, partners, and victim survivors from across the country. I was lucky enough to attend and hope you will allow me to share some of the amazing things I experienced and learned over those three days.
As an optimist, I was thrilled to learn that this new tagline doesn't just sound good. It actually has a vision and technology to back it up. On Thursday afternoon, MADD and the National Highway Traffic Safety Administration (NHTSA) co-hosted a special event at the U.S. Department of Transportation that gave attendees a hands-on demonstration of the Driver Alcohol Detection System for Safety (DADSS).
This advanced vehicle technology will detect if a driver is at or above a blood alcohol concentration level of .08 (the national legal limit) by either breath or fingerprint. This was amazing to see and truly moves us closer to the goal of no more victims due to a drunk driving crash. Wouldn't it be amazing to see this safety feature in every new car – just like a seat belt?
As a caring and feeling human being, my heart went out to the victims and survivors of drunk driving crashes that I met during the conference. Over those days, I was truly honored to be in the room when they shared their tragic tales. I do admit, these accounts were hard to listen to at times and I went through a lot of tissues as I cried in solidarity with them for their loss but also their strength.
At the Friday lunch, MADD CEO Debbie Weir was joined on stage by NFL Commissioner Roger Goodell and NFL Player Delanie Walker (Tennessee Titans). Delanie shared his story of loss – his beloved aunt and uncle, Alice (Peaches) and Bryan Young were killed by a drunk driver after watching their nephew play in Super Bowl XLVII in New Orleans. Delanie is dedicated to getting MADD's message out. MADD has an important partnership with the NFL and they work to inform football fans and players of the importance of enjoying the game safely. Everyone needs a plan for game day and every day – always have a designated driver and never drink and drive.
As a parent, I especially appreciated the session highlighting MADD's "Power of Parents"campaign. This session featured Robert Turrisi Ph.D., Professor of Biobehaviorial Health and Prevention Research Center at Pennsylvania State University. Dr. Turrisi is one of the nation's leading researchers on prevention of underage drinking and the principal collaborator with MADD on their Power of Parents program. This program aims to help parents talk effectively about alcohol with their children. My biggest take away from that session was that kids' brains are still in a critical developmental period well into their 20's. Alcohol interferes with this development and changes how brains and bodies grow. I simply didn't know that, and I bet a lot of parents don't.
As a fundraiser, the stories and compelling mission of MADD resonates in a way that means the possibilities for reaching new audiences and supporters are endless. With personal stories, solutions in sight, as well as a real concrete need for support – MADD has a case for giving that will continue to motivate their amazing donors and reach new audiences.
Now, can I translate the emotions I felt during the conference into our direct marketing efforts for MADD? It's my mission to try.
To learn more or donate to MADD, please visit madd.org
Sandra Paul Bishop