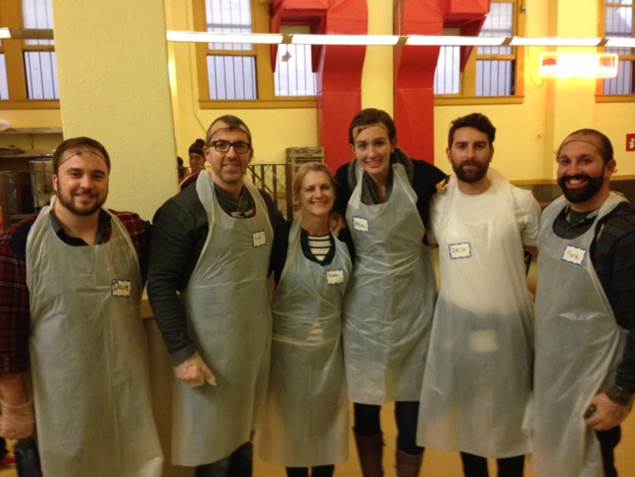 As CCAH's San Francisco office gathered together to make our way to the Glide Memorial Food Bank, I began to feel nostalgic. Like many people, my favorite time of year is the holidays—where we make time to appreciate what is truly important to us, and reflect on another year of our lives.
But we all know that the holidays can quickly become a vortex of last-minute shopping, airline tickets, or cooking perfectionism. We have to fight this though, and make the time to truly appreciate the holiday season. That's why I was happy to participate with my friends and coworkers at the Glide Memorial Food Bank, all of us in our hairnets, aprons, and gloves, ready to serve hundreds of hungry people their daily meal.
Each day, the Glide Memorial Food Bank serves up to 2,400 meals per day to the San Francisco community, 364 days per year, totaling up to 65,000 hours of community service annually. It felt great to serve the community with my coworkers. We also brought two big boxes of toys for the Toy Bag Giveaway, where approximately 8,000 toys are given to kids each year to brighten their holidays.
I thought to myself that volunteering and giving alone always feels rewarding, but it feels even better to help a community as a community. I was proud of CCAH for organizing this opportunity to make a person-to-person difference.
There were several elements of our work at Glide that struck me.
First, the consciousness of our office to bring everyone together to get our hands dirty and follow through on our core values—to make the world a better place through empowering progressive organizations.
The second surprise was the sheer number of people in need of food at Glide. The line seemed to never end. It was certainly a moment to count blessings, and reflect on the things we take for granted, like knowing where our next meal will come from.
Finally, I was moved by my co-volunteer, named Jose, who volunteers every day at Glide. From the moment we began working together, we launched into conversation about social issues in our nation, and how to be the best people we can be as global citizens. Jose's passion for volunteer work and social justice showed me that true gems of wisdom can come when least expected, and served as a reminder to always be ready to learn.
Ultimately, I feel that we all bonded through this work, and gained an even greater appreciation for how much work there is to be done to help those in need. I don't think I'll let another holiday season in the coming years to go by without lending my helping hand. Just two hours can make a huge impact, in ways big and small. It's a reminder of why we're passionate about our work, and a reason to give 100% every day. On behalf of CCAH, happy holidays, and here's to a New Year of progress and life-changing nonprofit work.