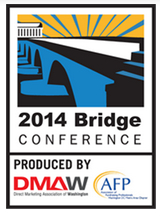 CCAH is proud to be part of the 9th Annual Bridge to Integrated Marketing & Fundraising Conference, which will be held this week at the Gaylord National Hotel and Conference Center at National Harbor, MD. The Bridge Conference is widely known for offering the finest cutting-edge educational programming available to fundraisers and direct marketers.
Our President, Kim Cubine, will introduce Dr. Janet Lapp, author and Change Management speaker, who will be the keynote speaker for Friday's Opening General Session.
CCAH Principal and Senior Vice President Pete Carter will set the tone for the MAXI Awards when he introduces the event's MCs, Pat Frame and Eva Bowie.
Finally our Vice President of Digital, Brenna Holmes, will participate in a panel discussion on data and analytics of social engagement on Friday morning.
If you haven't registered yet, you still can by clicking here. The Bridge conference will run from Wednesday July 9th through Friday July 11th and we'd love to see you there!