by Kim Cubine, President | It is with great pleasure that I share the news that CCAH's "I Am a Cancer Survivor" campaign on behalf of City of Hope won the Hubbies 2014 Courageous Client Award. Daniel Kamas, CCAH Senior Strategist, accepted the award at the March 31st awards ceremony.
Several things make this award truly meaningful. First and foremost is the tremendous work City of Hope does as a leading research and treatment center for cancer, diabetes and other life-threatening diseases. Nothing could be more important than assuring its ongoing capacity to translate bold, innovative ideas into powerful new treatments, while delivering compassionate care to patients and their families. It is a cause that truly matters.
Second is the willingness of a cancer survivor to share her poignant story of survival with other former patients. It is not easy to revisit some of the most frightening times in one's life, yet the bravery Michelle Gearhart-Pash displayed to garner support for City of Hope serves as an example to us all. As one judge relayed, "This is a true courage of life award."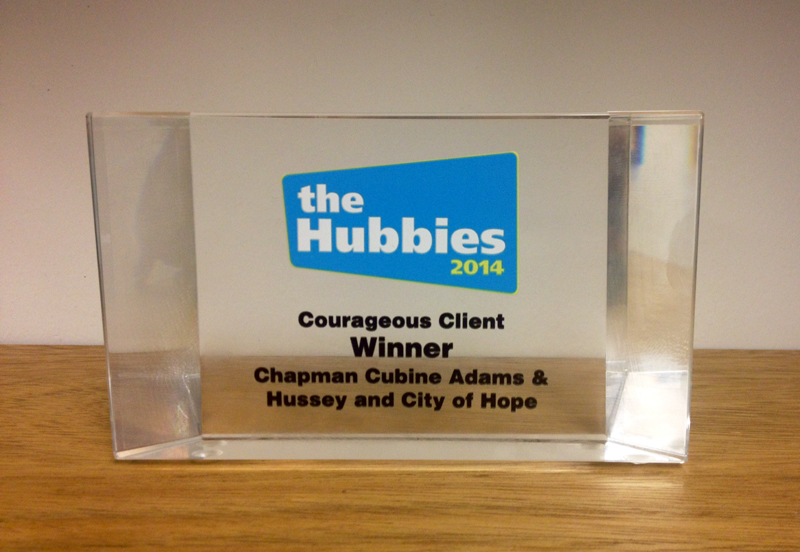 Third is the ingenuity and creativity of the CCAH team. Working with a miniscule budget, they achieved results that far surpassed campaigns operating with far greater resources. The email campaign achieved an average gift amount of $190.48 and an average gross per thousand of $246.29. These results are impressive by any standard.
Last, but not least, is the roster of other Hubbies award winners. Amidst the ranks of Fortune 500 companies and large public relations firms dedicated to promoting major brands, CCAH and City of Hope shared the limelight in a truly significant way. Receipt of this award acknowledges the meaningful work that City of Hope does. CCAH has remained true to one of our most cherished founding principles: Help our clients deliver on their promise to make the world a better place. We're proud to be part of the City of Hope team — and a member of all our clients' teams — in advancing important agendas and making a difference.